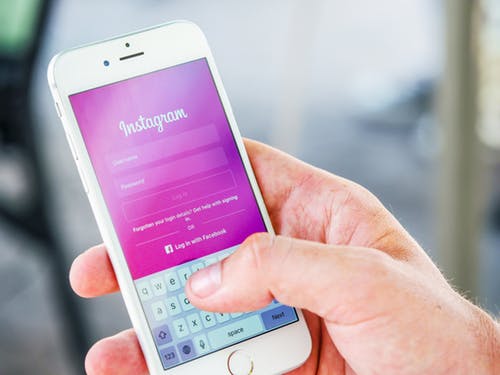 Instagram has always been a creative space full of endless inspiration. Because of this, many businesses have used it to grow large followings and entertain them in unique ways. But, if we're being honest, Instagram has never a great place to sell products — until recently that is.
Ever since Instagram shoppable posts hit the mainstream, companies have had the ability to easily sell physical goods on the platform and it's been a total game-changer!
In this article, we explain what Instagram shoppable posts are, why they're beneficial, how to create them, and a few best practices you should keep in mind to help you make more sales. We have a lot of useful information to share so let's get started!
What are Instagram Shoppable Posts?
If you're not familiar with them, Instagram shoppable posts are posts that allow Instagram users to easily purchase the products they discover on the network. This feature, combined with Instagram's Checkout feature, make it much easier for businesses to sell their goods on Instagram and directly monetize their followings.
Here's an example of what Instagram shoppable posts look like: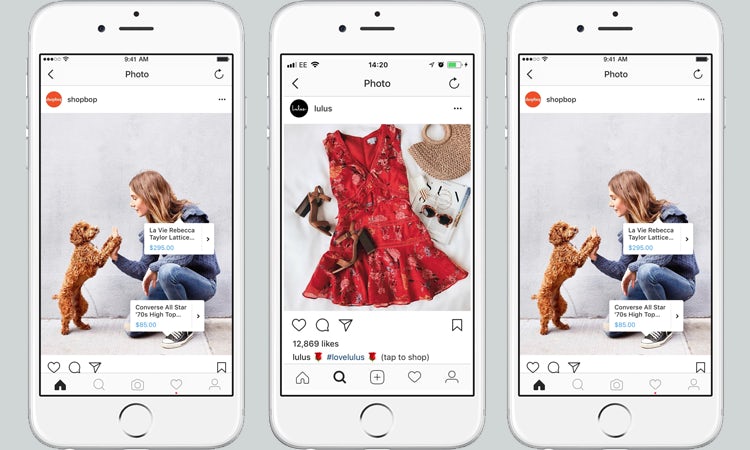 Source: Marketing Week
As you can see from the above photos, company's can now tag the products in their posts just as they would other people. When a user clicks on the tag, they're able to learn more information about the product and even purchase it if they wish.
The Benefits of Instagram Shoppable Posts
Instagram shoppable posts have many benefits. Two of the more important ones are the chance to sell more product and the ability to provide a better customer experience. Let's take a look at each of these benefits individually.
1. Sell More Product
Instagram shoppable posts streamline the buying and selling process, leading to more sales for the companies using this handy feature. It really comes down to ease and convenience. Because users can now purchase the products they see on Instagram immediately, without having to manually search for them online or even leave the app at all, they'll be more inclined to do so on a regular basis.
2. Provide a Better Customer Experience
Instagram shoppable posts also help businesses using the social network provide a better customer experience. Rather than directing Instagram users to a single bio link to make purchases, businesses can now sell to their audiences directly from their posts. It's a much simpler and more enjoyable process for all involved.
How to Start Using Instagram Shoppable Posts
By now, you should understand the power of Instagram shoppable posts. They represent an amazing opportunity to businesses. Here are the three steps you need to take to capitalize on it and sell more products on Instagram:
1. Make Sure Your Business is Eligible
Unfortunately, as of this writing, not every Instagram account is eligible to use the shoppable posts feature. There are five requirements your business must meet:
Your business must be located in one of the 46 countries where Instagram shoppable posts are currently available.
Your business must have an Instagram Business Account. If you haven't set this up for your company yet, follow these simple instructions.
You business must be using the latest version of Instagram on either iOS or Android. Outdated apps don't allow this feature.
Your business must sell physical goods and comply with Instagram's merchant agreement and commerce policies.
And finally, your Instagram business profile must be connected to a Facebook catalog. We'll talk more about this in the next section.
Does your business meet these five requirements? Great, you're eligible to use Instagram shoppable posts! Keep reading to learn how.
2. Create a Facebook Catalog
Instagram shoppable posts can only be used if the products you're trying to sell have been added to a Facebook catalog and connected to your company's Instagram account. Not sure what a Facebook Catalog is? No problem!
This guide will show you how to setup a Facebook Catalog for your business.
If your business uses Shopify or BigCommerce, you can easily connect your online shop to Facebook and then to Instagram as well. Just follow these directions for Shopify, and these for BigCommerce and you'll be able to set up the integration in just a couple of minutes.
3. Add Shoppable Tags on Instagram
All you have to do now is add shoppable tags to your future Instagram posts! This is really easy and quick to do:
Upload the image you want to use to Instagram and add any effects and filters you wish to use. Then add a caption and hashtags just as you normally would.
Next, select "Tag Products" and type in the name of the product you'd like to tag. When the right product appears, click on it. You can tag up to five products per post.
Lastly, share your post to Instagram. When your followers see it, they'll be able to click on your tags and purchase your products at their convenience.
4 Best Practices for Instagram Shoppable Posts
You now know the basics regarding Instagram shoppable posts. Are you ready to take things to the next level? Whenever using the shopping feature on Instagram, keep these four best practices in mind and you'll be able to achieve better results.
1. Make Your Posts Feel Natural
Your Instagram sellable posts will be more successful if they look, for the most part, like the other images your company posts to the network. That way your followers don't feel like they're constantly being sold to and your branding can remain consistent.
So continue to use high-quality images. And when possible, showcase your products being used. Action shots tend to do better on Instagram.
2. Create a Consistent Shopping Experience
Buying products from your company through Instagram should be a seamless process. That means your posts need to match the vibe of the web pages you'll be directing customers to.
More than that, make sure that the products you tag on Instagram are shown and represented as accurately as possible. This will ensure that potential buyers aren't surprised and feel comfortable following through on their purchase decisions.
3. Make Proper use of Hashtags
Hashtags are still incredibly important on Instagram. If you choose the right ones for your shoppable posts, you'll be able to drive more traffic and sell more products.
We suggest researching the hashtags that are popular in your niche and using them. You can do this by searching Instagram for any keywords that are relevant to your business and looking into the hashtags that popular influencers in your industry are using.
4. Partner With Instagram Infuencers in Your Niche
Does your business utilize influencer marketing? Then combine that tactic with Instagram shoppable posts. All you have to do is publish an image of an influencer using your products and make it shoppable. Because influencer endorsements are so well-respected, you'll probably be able to drive more sales!
Note, if you company isn't in a position to work with influencers, you can use the same strategy with user generated content instead!
Wrapping Up
Instagram shoppable posts represent an amazing opportunity for your business! Follow the directions and best practices that we outlined in this article to start using them effectively and selling more product than ever before. Good luck!

Need a place to store and organize the images and videos you plan to post on Instagram? CleanPix is the perfect solution! Try it for free for 14 days and see for yourself.

– Jacob Thomas