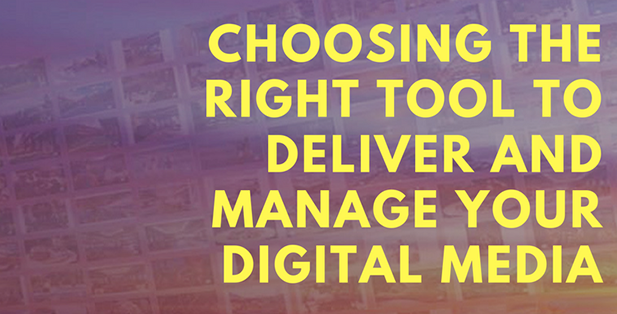 Dropbox was founded in 2007 and quickly changed the way businesses operate. Sharing files became much more convenient and Dropbox grew at a truly historic rate; easily becoming one of the fastest growing software as a service (SaaS) companies of all time.
But the role of digital media has greatly evolved over the past 10 years, as have the business requirements when managing that data. Marketing teams are now faced with specific limitations when using Dropbox, or any other digital file locker — Google Drive, Box, WeTransfer, etc. — for that matter.
These services are still useful. But for the modern marketing team, a dedicated digital asset management (DAM) service may no longer be optional, but mandatory.
In this post we'll examine the differences between a DAM service and a digital file locker like Dropbox. And by the end of this article, you'll know exactly whether an investment in DAM will be worth it for your company or not. Let's get started.
What are the differences?
So what exactly differentiates a DAM from a digital file locker (DFL) like Dropbox, Google Drive, or Box? There are a few things, actually:
Purpose
The first, and most foundational, difference between a DAM and a digital file locker is the purpose for which each are intended. A DFL is a cloud-based storage service that makes it possible to access and share files from any WiFi enabled location.
Once a file has been uploaded to a folder in your DFL of choice, you simply have to log in to your account to access it and share links can be sent to others of your choosing. This is great for sending single files that may be too large to email or hosting a small collection of files that you'd like access to no matter what device you happen to be using.
A DAM service, on the other hand, is specially designed for marketing and PR teams with specific tools to help them move their brands forward in the most efficient manner possible.
It's a centralized system that lets marketers easily search through their large library of digital assets — photos, videos, logos, etc. — quickly identify the right files, and send them to the person or company of their choosing. When using a different system, such as a DFL, it's too easy to lose track of important files.
Each of our next points will dive deeper into specific features that make DAM software unique, but for now, you could say that at the most basic level, a DFL is designed to simply host files; a DAM is designed to put those files to work in the most efficient way possible by offering exceptional discoverability and distribution features in order to move an organization closer to its goals.
Organizational Tools
In recent years, the demand for visual marketing assets like pictures and videos has exploded. And many companies now have large asset libraries they use regularly in their marketing efforts.
But the possession of thousands of assets is only beneficial if you can efficiently organize, search though and locate them when needed. This is one area where DAM truly excels!
A proper DAM solution will have extensive meta tagging capabilities so you can easily organize your assets in a multitude of different categories of your choosing. When your entire library is adequately organized, you'll be able to find files quickly and easily.
Many DAMs also display files in a visual grid, which makes scanning through assets a breeze. DFLs, though, tend to organize files inside of folders, which means clicking in and out of various folders in order to find specific files. Depending on the number of assets in a media library, this system could easily lead to files becoming lost.
Branded Company Galleries
When you share a folder via a DFL, there's nothing you can do to change the appearance, feel or layout. Every folder you send will look the same. This isn't necessarily a bad thing. But it does mean your company is missing an opportunity to reinforce your brand.
A DAM will give you access to branded company galleries, also known as user portals, which can be customized to your company's unique brand and even hosted on your company's website if desired.
These galleries also allow users (both internal and external) to browse through your public-facing asset library and request access to files. Once they do, the DAM administrator will receive a notification of the request and can easily accept or deny it.
This is an incredible time-saving feature that's especially powerful for brands that regularly interact with the media. Rather than constantly fielding requests for specific image types, your company will be able to direct reporters, bloggers, and others to the gallery and let them choose the images for their story on their own!
Security, Access Controls and Rights Management
In today's digital world where new cyber threats appear almost daily, security has never been more important. All top DAMs and DFLs have excellent initial security measures and do a great job of protecting users from hackers and data breaches.
Where DAM software begins to rise above, though, is in access control capabilities and digital rights management. DAM lets administrators add advanced and customizable access controls, licensing terms and expiration dates to each and every digital asset in their library.
This means that DAM administrators can easily specify who can see and download assets, approve new users and more. DFLs do not give you anywhere near this kind of flexibility in regard to asset security.
DAMs also helps companies better track and ensure rights management, through different safety measures including extensive meta tagging, embedded copyrights, and more. This ensures that the appropriate party — photographer, artist, etc. — gets credit for their work and that none of your company's assets are used without permission.
Reporting Features
In modern business, knowledge is power. And that means that, for many companies, analytics are instrumental in determining a course of action.
Most DAMs will be able to generate detailed reports on who is viewing and downloading your assets, what your users search for most, which files are most popular, and more for all of your public facing galleries (user portals).
This is valuable information your marketing team can use to better shape strategy. Unfortunately, the only reporting feature most DFLs offer is viewer history, which only describes the number of people who have viewed a specific file.
File Manipulation
Another feature exclusive to DAM platforms is the ability to manipulate files inside the system.
When a file is added to a DAM, the service will automatically transform it into multiple file formats — like jpeg, .eps, etc. — and sizes. Many DAMs also allow you to crop files internally, saving users from having to access additional programs for this simple job.
These file manipulation features can potentially save marketing teams hours of work in any given week and aren't available in any DFL that we know of.
File Syncing Capabilities
File syncing is a DFL feature that allows a user to save files to both their cloud storage and computer simultaneously. Anytime a file is added to either the computer based folder or the cloud storage, the other is updated to mirror it.
This may come in handy if you often work in environments without WiFi and don't want to have to remember to download specific files to your computer's hard drive beforehand. Typically, DAMs do not have a file syncing feature.
Cost Variances
The cost difference between DAMs and DFLs is hard to quantify due to the range of options.
While a DFL may be cheaper (or even free) at the onset, you'll generally have less space to store files, only be allowed to accommodate a few users/admins, and won't have access to any of the amazing, time-saving DAM features we've already discussed.
So an apples-to-apples price comparison is impossible and unfair. Your choice of platform really just depends on what your company's budget and desired capabilities in regard to file storage, organization and distribution. Let's talk more about that now.
Which should I use and when?
Because DAMs and DFLs are intended to be used for different purposes, you'll need to decide which service better suits your company's needs. You may even find that both are necessary and integrate each into your team's daily workflow.
But here are a few guidelines to keep in mind for each service:
Use a DAM when:
If your company has thousands of digital assets; everything from high-res photos and b-roll footage to brand logos and PDFs, and you want your entire marketing team to have access to them, a DAM will be beneficial.
The search capabilities of a DAM will save your team time when sorting through all those assets and you won't have to pay any more money when adding new team members.
You'll also save time by enabling public-facing galleries and allowing users to self-service their media requests. And because of most DAM services advanced security and permissions measures, you'll never have to worry about important files falling into the wrong hands.
Finally, if you envision yourself needing multiple file formats of each digital asset in your library or wanting to crop photos without opening up another program, a DAM will give you the ability to do so.
Use a digital file locker when:
Digital file lockers, while not as feature laden as DAMs, may be the right choice for your company if you only have a small number of files you need to store and need to grant access to just a few users, have no need for file manipulation, and don't regularly share images with outside parties.
With only a hundred photos or so, the advanced search features of a DAM might not save you enough time to make any added cost worth it. Similarly, if users aren't regularly contacting you asking for specific assets, you won't need to take advantage of the public-facing galleries.
In Conclusion
Though, at first glance, a DAM and a DFL may seem like two sides of the same coin, this post has made it clear that they are, in fact, quite different.
DAMs are made specifically for marketing and PR teams and include features to make the organizing, locating and distributing of thousands of potential digital assets much more efficient. DFLs, though, are quite useful for storing and sharing individual files or small collections of related assets.
The choice of which you use and for what purposes will come down to your company's individual needs and budget, but if you're at all interested in DAM, give CleanPix a try for FREE for 14 days.
Our team is standing by to answer any questions you may have and walk you through the setup process if needed. Before you know it, you'll be up and running with DAM and we have a feeling you'll love the ease and efficiency it affords you and your company!