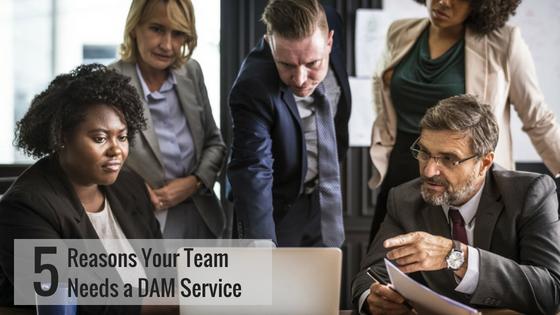 As a marketing or PR professional, you're used to using various pieces of software to assist you in your job. From CRM apps to email marketing programs, the simple fact is, most marketing tasks simply can't be completed without the appropriate use of software.
But often times, digital asset management (DAM) software is overlooked. It shouldn't be.
DAM services have had a less than desirable reputation in the past, it's true. But a new breed of DAMs like CleanPix are changing the narrative and becoming an essential part of many marketing teams workflows.
In this post, we'll explore what exactly a DAM service can do for marketing and PR teams and then discuss five reasons why DAMs are so essential to the modern marketer.
What Does DAM Software Do for Marketing and PR Teams?
DAM software helps marketers and PR professionals better organize and distribute their company's digital media files with multiple features such as robust meta tagging, public facing galleries, multiple file formats and more. Let's further explore each of these:
Robust Tagging Features
DAM software allows you to organize your files according to your preferred workflow through the intelligent use of metadata. Store assets in anyway you like by simply tagging them with the appropriate "labels" and rights information.
Public-Facing Galleries
Public-facing galleries, also known as user portals or brand portals, are basically searchable online media libraries. When a piece of content — photo, video, logo, etc. — has been added to a library, both internal and external users are able to find it and request access to it.
Multiple File Formats
Finally, not every person requesting access to your company's digital assets will want them for the same reason. For example, Requester #1 may need "File A" for a blog post he's writing on your company. But Requester #2 may need the same file for a highly visual print magazine she's publishing.
While a simple .jpg version of "File A" would be appropriate for Requester #1, Requester #2 will most likely require an .es file. A competent DAM system will automatically create and store multiple versions of all your files for you.
5 Reasons Why Your Marketing Team Needs a DAM
Now that we've established what a DAM is and a few of its prominent features, let's discuss why they are so useful to marketing teams. We've come up with five main reasons:
Quickly Find the RIGHT Files
You know how it goes; you just received a request for a specific image. Maybe it was a news reporter hoping to run an article on your company in the local paper next month. Or perhaps your boss is spearheading a PR campaign and wants "that one image our design team created for social media last year." Either way, you need to find the right image, right now.
But combing through thousands of digital assets in search of one specific file can often be time consuming. DAM software helps you find the files you need faster by allowing you to search through the tags attached to each asset. This makes the "discovery" phase incredibly simple!
So when someone asks you for a certain file, you can quickly find it and send it to them. Then get back to working on more important; business building tasks!
Also, most DAMs display assets in a visual grid, which makes them highly scannable. This helps to reduce the amount of time you and your team spend hunting down images as well.
Easily Send the RIGHT Files
Your email marketing guy just created a killer drip campaign. The messaging is right on point and you know that your company's target market will love reading each message, resulting in a high level of clicks and conversions!
Now he just needs the perfect images to include with each email to help keep the audience' attention and build excitement. He even knows which images would work well. Can you send them over?
If this scenario is familiar to you, and your current file distribution system consists of email and various random Dropbox folders, there's a better way!
Distributing assets such as pictures, logos and the like can be tedious work without the right tools. A proper DAM system allows you to set up and manage both private download portals and public-facing galleries. Instead of constantly fielding requests for images, add every image to a gallery or download portal and send the link to interested parties — internal or external.
Depending on the way you've set up your system, they can then browse the images on their own and request access to the files they want or simply download them at will.
Ensure Security and Maintain Compliance
As cyber threats continue to escalate year after year, so does the need for secure databases that companies can rely upon to safely store their assets and important information.
DAM services offer marketing teams one centralized system to securely store their files and include security features such as permission controls to all public galleries, access codes (if desired), expiry dates and even custom license agreements that users must agree to before downloading files.
Proper DAM systems also include management rights features so that you're able to easily maintain compliance. CleanPix, for example, solves this issue by embedding creator rights directly into each file automatically. How's that for convenience?
With DAM, you don't have to worry about the security of your files; everything inside the system is locked up tight! You also don't have to deal with the headache of constant legal action against your company due to inaccurately handling usage rights. And the less you and your team has to worry about, the more effective you'll be at marketing your company!
Maintain Constant Access
Most modern DAM systems operate in the cloud. Meaning, as long as you have access to at least one of your devices (computer, smartphone, tablet) and a WiFi connection, you can access your files.
This feature is quite handy for distributed teams whose members each work in different locations, as well as for marketers who are constantly on the go.
If your company employees remote employees, or if you yourself happen to travel frequently and often find yourself away from your office, a cloud-based DAM system will help you stay connected.
Simply login from your device of choice and you'll have full access to your files, be able to approve or deny all asset requests through your public facing galleries, and send files directly to others through private download portals.
Increase Professionalism
By investing in the right DAM system for your company, you'll also be investing in your organization's professionalism. And people enjoy doing business with professionals.
But how does DAM increase professionalism? Three words: Public-facing galleries.
Let's imagine for a moment that you manage the marketing team for your city's tourism board and are charged with getting the word out about your town and all that it has to offer. Since you're quite exceptional at your job, you often have reporters, bloggers, and the like contact your department asking for various images they can include in their stories about your city.
Instead of granting each requester access to various Dropbox folders — a process that is both messy and highly insecure — you could instead, send them a link to your public-facing gallery. Remember, a public facing gallery is essentially a digital media library.
Each requester can then, on their own, search through your image database, choose the exact photos they want for their story and request access. You just have to approve or deny the requests.
This will save both you and your users time and hassle and create a much more streamlined and enjoyable experience for every user. It will also increase the level of your company's professionalism in their eyes. Win win!
Invest in Digital Asset Management Today
And there you have it; what digital asset management can do for your marketing team and five reasons why it matters.

DAM systems are incredibly useful tools for modern marketing and PR teams and, given the explosion of digital content, are becoming increasingly necessary.

If you believe DAM software could be beneficial for your company, we encourage you to try CleanPix for FREE today and see for yourself how digital asset management can improve your marketing efforts.

– Jacob Thomas