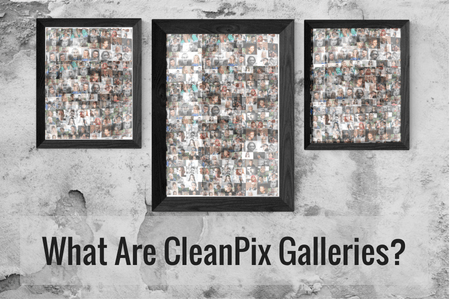 If you're at all familiar with the CleanPix service, you've most likely heard about galleries; one of the flagship features included with our DAM. But what a gallery actually is and does may still be a bit of a mystery to you. We're here to clear up any confusion.
In this post we'll define exactly what the CleanPix galleries are, how they work and a few of the main gallery features our clients find most helpful.
CleanPix Galleries
So, what is a CleanPix gallery? It's simple really: a gallery is basically a "read only" public-facing media library. An administrator of a CleanPix account is given the ability to add assets (photos, logos, videos, etc.) to the gallery so that they can be viewed by third parties in a secure and controlled environment.
Managing a collection of files in a gallery allows companies to streamline their asset distribution process. Take Sharon, for example:
Sharon is the PR director of "Big Budget Hotels", a chain of inexpensive hotels across the midwest. Every week, Sharon and her small team field anywhere from 10 – 15 media requests, each asking for images to add to their blogs, newspaper articles and the like on "Big Budget Hotels".
The only problem is, searching for and distributing the appropriate files for 10 – 15 different media outlets is time-consuming. In fact, Sharon had to bring on two interns just to keep up with the constant demand for assets!
But eventually, Sharon discovered CleanPix and our galleries feature completely changed her and her team's entire workflow.
Now, rather than searching for and sending files via a hodgepodge email and network folder system — a process that's both messy and inefficient — Sharon's team simply adds any and all photos they want to their gallery and updates are published immediately.
When a new media request comes in, Sharon just sends them a link to the gallery where they can self-service their own photo requests by browsing through the media library, selecting the photos they're interested in and requesting access.
Sharon then receives an email notification and can quickly approve or deny any request from her smartphone, tablet or computer. Or, she could even configure the system to auto approve requests, saving even more time. That's the power of the CleanPix galleries!
Specific CleanPix Gallery Features
Let's talk about a few specific features that make the CleanPix gallery feature so incredibly useful:
Access Controls
As the administrator of a gallery, you have the option to assign and remove varying levels of access control to other people. And these users can be separated into two different groups: Content Administrators and End Users.
Content Administrators
Content Administrators are those who have their own profiles and use them to log into their company's main CleanPix account. Through these profiles, they are able to upload new files to their various galleries, organize the assets there and moderate media requests.
End Users
The "End User" title encompasses everyone else who can access the files on a CleanPix account, but aren't responsible for the administration or organization of the files stored there.
Effectively, this means that end users are all those who have read-only access to a company's galleries. They don't have their own username and passwords like the administrator of the account does, and they can't make changes to a gallery either. They are simply able to view and request access to the files.
Most of people accessing your account will be end users and will only require read-only access to your galleries. You can give them this access by either sharing a public link to a gallery (with the download permissions you desire) or by directly delivering access to a specific email address via our instant access tool.
Now, let's take a moment to discuss individual usernames and passwords. End users don't have them! Instead, you (as the administrator) can create a list of approved email addresses that will receive automated approval for all submitted media requests.
By using this system, we've made it much easier for each of your end users because they don't have to worry about registering for a new account, selecting and remembering a password, etc. And, because access is directly linked to a user's email address, it's a more secure way of sharing assets as well!
Each access link sent through either an approved media request or instant access is uniquely tied to the user's email address. And, if it appears that existing access is being misused, it's easy to deactivate access for just that user/email address.
As another option, for those looking to share a gallery with a trusted group — another department within your company, for example — a password can be enabled on the gallery of choice. Access won't be granted unless the password has been inputted.
More Control of Your Galleries
CleanPix uses the power of the cloud to ensure your files are accessible anywhere with a modern browser and internet access. Galleries can be shared internally by staff members, published online with an easy to use public URL, or even linked to your company's website to provide the ultimate brand experience for each of your users.
The website sync is accomplished via a plain HTML link or using an iframe. Once the gallery has been linked, your end users will be able to interact with it on your company's website, just as they normally would. This gallery on one of our client's website, is a great example!
Take complete control of your brand and keep every interaction with your end users — including the way they view and access your company assets via galleries — on your organizations "home turf"; your website.
No File Size or Download Limit
As a CleanPix gallery administrator, you're not restricted by file size or download limits. Many other digital asset management services put a cap on how large the files you can upload to each gallery can be or how many times each asset can be downloaded.
CleanPix is different. If you're interested in hosting large files like high res photos or even b-roll video footage, or anticipate increased interest in specific assets, resulting in a high level of downloads, the CleanPix system will happily accommodate.
Easy to Use, Fast to Implement
Finally, it's worth mentioning that, despite the powerful features included, CleanPix galleries are actually incredibly intuitive and easy to use. In fact, we regularly say that new users — even those completely unfamiliar with any kind of digital asset management service — can be up and running with our entire system in 60 minutes or less!
Questions are always welcome, though, as well. If you have one, our knowledgeable customer service team is standing by to answer it. Just give us a call or shoot us an email and we'll promptly respond within one business day.
CleanPix Galleries: A Better Way to Distribute Files
Galleries are a fantastic CleanPix feature that will save your marketing team hours every week, increase your company's professionalism and eliminate the headache caused by distributing files via email or DFL folders.

And the best part? You can try using CleanPix and our galleries feature right now for FREE! Sign up for your free 14 day trial and experience the convenience of CleanPix today.

– Jacob Thomas