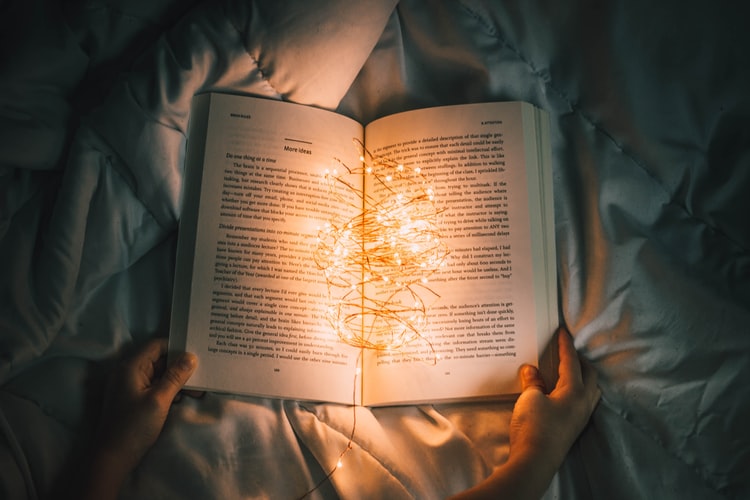 Brand storytelling is in. All the top marketing blogs are talking about it, countless PR conferences feature sessions on it, and numerous books are being published on the topic. You know why? Because it's incredibly important in 2020 and will continue to be for years to come!
In this article we explain what brand storytelling is, why it's the future of marketing, and how to tell your brand's story effectively. Let's jump in!
What's Brand Storytelling?
Aside from being a popular buzzword in business and marketing circles, brand storytelling, according to Scribewise, is "using a narrative to connect your brand to customers, with a focus on linking what you stand for to the values you share with your customers."
In other words, your brand's story is the combination of who your company is, why it exists, what it does, and who it serves, told in an easy to understand, direct way. Pretty simple, right?
Storytelling is the Future
Technology continues to push forward at dizzying speeds as artificial intelligence, automation, and other breakthroughs become commonplace. But good, old-fashioned storytelling is the future of marketing and business-building in general. Here's why:
1. Your Story is Unique
The world is full of similar companies to yours, each creating the same kind of products and content for the same kinds of customers. How can your organization possibly stand out in this overwhelming sea of sameness? The answer: storytelling.
The only thing that other brands can't replicate in regards to your company is its story. How it came to be, what it stands for, why it serves its customers…
This is your secret weapon in the fight to grow your business and win market share. By doubling down on brand storytelling, you'll be able to differentiate your company from its competition, grow meaningful relationships with customers, and achieve greater success.
2. Stories Connect People
Speaking of relationship building, there's no better way to do it than via an authentic brand story. If you're able to connect with your customers on an emotional level, they'll become fiercely loyal to your company and be its biggest advocates.
TOMS Shoes is a great example. The company's one-for-one business model resonated with a large subsection of people and catapulted the brand to a $625 million evaluation in 2014.
How did TOMS do this? By sharing its story. For every pair of shoes that TOMS sells, it donates a second pair to a child in need. Once people found out about TOMS' mission to "shoe the world" they couldn't wait to support the company and purchase its products.
How to Tell Your Brand's Story
Your brand's story is unique and has the power to connect your company to a specific group of people, creating fiercely loyal brand advocates in the process. But how do you actually tell your brand's story in an effective and authentic way? We have a few tips for you:
1. Know Your Company Why
Why does your company exist? Please don't say, "To make money." Not only is this answer shortsighted, it's not something your customers can get behind. If you're a business owner, you may have started your venture to improve your financial standing, attain a better lifestyle, etc. But that's not why your brand exists.
If you're having trouble answering this question, ask yourself, "What does my company stand for?" and "What are our values?" This is a good place to start.
For example, your business might produce software that makes it easier for your customers to do their taxes. If so, convenience could be an important organizational value. You can then take this value and say "We exist to make tax season more convenient for our customers."
See how that works?
2. Understand Your Audience
Once you've taken the time to discover why your brand exists and its values, we suggest you take a moment to also understand your audience. Who are they? What challenges do they face? And how does your company's products help them solve their daily problems?
When you understand the folks you'll be telling your brand story to, you can frame your story in a way that you know they'll appreciate and connect with.
How about another example?
Apple creates legendary products like the iPhone, MacBook, and iPad. While there are legions of Apple lovers, there are also scores of people who think its offerings are too expensive.
But here's the thing: Apple doesn't spend much time and energy trying to convince the naysayers that its products are better. Instead, it focuses on its core customers, the folks who appreciate the company's commitment to great design and usability, and reinforces its brand story to them. This is a great example of understanding a customer base and framing a brand story to best fit that specific group of consumers.
3. Craft Your Story
When you understand both your brand values and your unique audience, crafting a compelling brand story is pretty simple. You simply state how and why your company came to be in a conversational way that will resonate with your core audience.
Need some inspiration? Warby Parker nails their brand storytelling: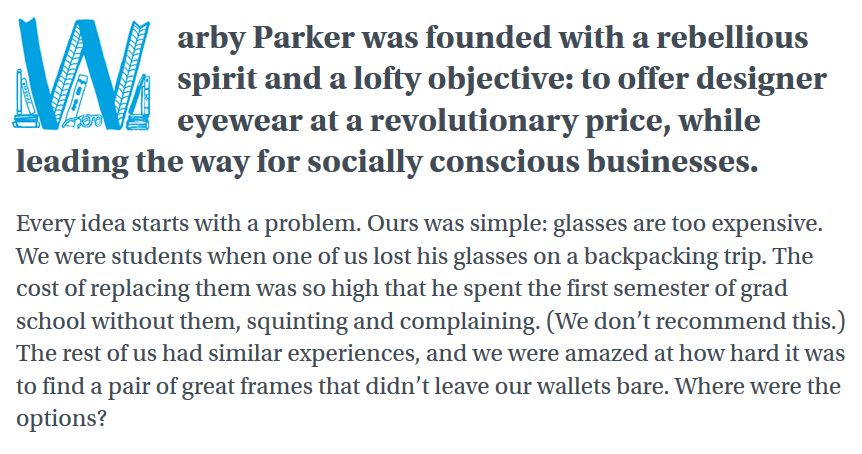 Source: Marketing Insider Group
Did you notice how this brand story is simple, relatable, and told in a very human-like way? It also shares the company vision, has a touch of humor, and perfectly addresses its core audience. Well done Warby Parker!
4. Get the Word Out
The final piece of the brand storytelling puzzle is to get the word out, AKA share your brand story with the world. How? Start by posting the story on your website's "About" page. Then take pieces of it and share them on social media, in blog posts, and in ad copy.
But don't stop there. Share stories of your employees and customers living your brand values. These people are your company's best marketing tools.
This brings up an important point: you can't just tell people your brand story, you have to act it out. Imagine if TOMS publicly championed the one-for-one model, but decided to not donate shoes to kids in need. What if they just decided to skip that part in order to save money, but didn't tell anyone? When the news got out, people would be outraged (rightfully so!) and the company would probably go out of business pretty quickly.
Everything about your company, from the words on its website to the social posts it publishes to the way salespeople interact with potential customers should be in alignment with your brand story. If it's not, trouble is on the horizon.
Grow Your Business With Story
Your brand story, when told correctly, will be one of your company's most powerful sales and marketing tools. It's the only thing that your competitors can't replicate and it will give your organization the chance to build real relationships with consumers.
To effectively tell your brand's story, follow the four tips we outlined in this article:
Know Your Brand Values
Understand Your Audience
Craft Your Story
Get the Word Out
Brand storytelling is essential to business success in 2020, but it's not the only thing you need to get right when it comes to marketing and PR. You also need to create and publish amazing visual content that aligns with the story you tell.

To better organize the many photos, videos, b-roll footage, and other digital assets in your company's library, we recommend CleanPix. Our digital asset management (DAM) solution is powerful, easy to use, and loved by our many users.

Give it a try for free for 14 days and experience the power of CleanPix for yourself!

– Jacob Thomas