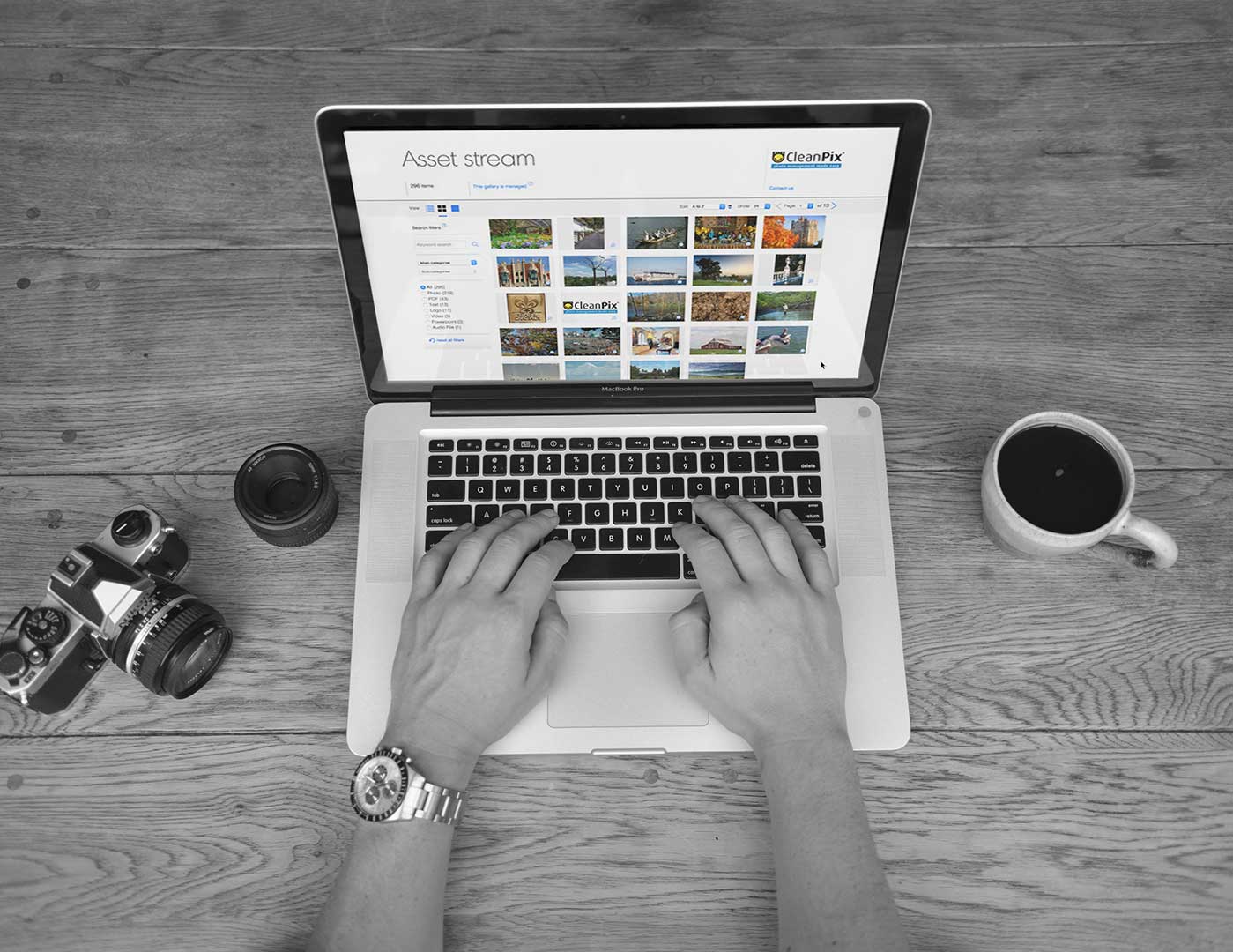 Digital Asset Management (DAM) has been around for quite a while, though it's really started to gain popularity over the last few years. In fact, many marketing teams now find it to be an indispensable tool in their daily workflow.
But what is digital asset management? That's what we'll explore in this post. By the end, you'll have a solid understanding of exactly what it is, how it works, and whether or not your company can benefit from it.
Let's get started!
Digital Asset Management: A Definition
A digital asset management system is a centralized database that helps companies better organize, store, retrieve and distribute their library of digital files.
Technically, any digital storage system — internal server, digital file locker (like DropBox), or true DAM service — can be considered "digital asset management". But when people talk about DAM software, they're referring to a specific type of solution.
This solution incorporates numerous features including cloud storage, robust metadata and tagging capabilities, customizable distribution portals, and extensive reporting features.
Another way to think about DAM is as "digital media management." The industry tends to use the term "asset" because brand files can literally become an asset to an organization when they're used with purpose.
But these media files can only be used effectively if they're first well managed and easily found!
The Benefits of Digital Asset Management
In years past, DAM services garnered a less than desirable reputation due to painfully cumbersome interfaces and a lack of user-friendliness. While most platforms have always possessed an exciting and powerful set of features, the average user found them too difficult to operate.
Fortunately, companies like CleanPix are rewriting the story on DAM!
Digital Asset Management services have begun to combine their powerful feature sets with intuitive interfaces and incredibly simple usability. This combination leads to many benefits for marketing teams. We'll discuss a few of them now:
Constant Access
Because DAM services host files in the cloud, user assets are accessible on any internet capable device, 24/7. Whether you happen to be in the office, your home, or your favorite coffee shop, you'll have complete access and control over your company's entire library of brand files.
Custom Organization
Every company is different and has a unique preferred workflow. DAM services understand this and give users control over how their digital assets are organized. Using robust metadata and tagging features, your files can be stored by date, project, department, or any other way you see fit.
Quick Discoverability
DAMs especially excel at asset location. How long does your team spend searching for specific files each week? Based on our research, the average marketing team is forced to devote approximately 15 minutes, per file, to its retrieval.
For teams that search for multiple files a day, that's a lot of valuable time being wasted! Time that could be spent on more productive, business building tasks.
DAM services eliminate this problem through robust metadata and tagging features. Files can be found immediately through a quick search of tags, which can be thought of as keywords for your files.
Metadata (the imbedded information on your assets) can also be searched for quick discoverability.
Easy Distribution
Distribution becomes a hassle when attempting to send either large assets or multiple files simultaneously. Many times email is simply inadequate.
But most professional DAM services will allow you to choose from at least one of two distribution options: private download links, and public-facing galleries (also known as brand portals.)
Private download links are exactly what they sound like: private links that the recipient can click on to easily download an enclosed file. They're easy to send and secure.
Galleries offer a different approach to file distribution. As the administrator of your DAM service account, you'll be given the ability to create public-facing file libraries, which can be browsed by anyone including internal or external teams, media personnel, and investors. If a browser sees a file they like, they can quickly request download access.
By allowing your users to self-service their media requests, you'll be able to potentially save your team multiple hours every week!
Built for Professional Marketing Teams
DAM service can be used by just about anyone, but they're really designed for marketing, PR and branding teams. These are the kinds of professionals that are generally able to take full advantage of a DAM's suite of powerful features.
As a marketer, your job will get much easier when you use a tool that's made specifically for you and are able to work with a customer service team that understands your daily challenges.
Does My Company Need Digital Asset Management?
That's a great question and one that only you can know the correct answer to. But in our experience, most marketing teams — especially in today's environment where visual content is constantly needed for company blogs, social feeds, and other promotional efforts — could greatly benefit from an investment in DAM.
We encourage you to take an honest look at your company. Would the benefits mentioned above help make your team more efficient and move your business forward? If so, it's worth investigating the true ROI potential of a DAM service for your company.
Ready to Invest in Digital Asset Management?
DAM has come a long way in recent years; becoming much more intuitive and user-friendly. The right service can save your company time and hassle, and help create a much more convenient working environment.

So how about it? If you're interested in digital asset management for your company, we encourage you to try CleanPix for free today.

Partner with us and see for yourself the business transforming power of digital asset management!

– Jacob Thomas